---
About Our Outreach Programs

One of the leading causes of death amongst teenagers is suicide. The Centers for Disease Control report that it is the third leading cause of death, behind accidents and homicide, of people aged 15 to 24. Even more disturbing is the fact that suicide is the fourth leading cause of death for children between the ages of 10 and 14.

You can learn more facts about teen suicide and prevention at:

Why We Exist

P

ick With Austin

formed in memorial to former teen guitarist

Alan Carter Villaruz-Curley

, our goal is to continue Alan's mission of goodness by helping young people to experience his

Gift of Music.

We achieve this through our programs that collect and distribute guitars to kids who are staying long term in children's hospitals, to youth ministries, for "at risk" teens, youth groups, group homes, select individuals, organizations, mental health and disability centers. We do this in order to help bring about an awareness of the dangers of youth and teen depression and to educate the general public on this subject.

Pick With Austin is registered as a Nonprofit Corporation by the State of Texas and we exist strictly to support our stated Mission and Goals. Pick With Austin is funded and supported by both private and corporate donations, and through the goodwill of those who donate their time and efforts into making Alan's memory live on forever


Services That We Provide

Pick With Austin performs fund raising activities with the proceeds going toward purchasing guitars and related items for donation to at-risk teens and/or to children through whom the receipt of these donations may be therapeutic in nature.

Representatives from Pick With Austin are available to speak to children, teens, or various related groups of all ages with the focus being on sharing our story and helping to provide alternatives and support for those at-risk or to family and friends of at-risk children, teens, or adults. Our presentations are based on real life experience; any medical oriented advice is referred to the professionals at Bluebonnet Trails MHMR.

Through our public presence and media, as well as this website, Pick With Austin helps to spread awareness of the dangers of teen depression and suicide. We strive to integrate our programs and our efforts into other currently existing organizations and foundations; together we are strong and our messages become more powerful.

Going Forward

Pick With Austin has aggressive long term plans and goals:

We will continue donating guitars, guitar accessories, and music oriented equipment to individuals and organizations;

We will add more corporate sponsors, including guitar and musical instrument and accessory manufacturers;

We will integrate with more existing organizations, foundations, and programs and seek out private and government sponsored grants;

We will expand our outreach through the production of videos, through articles online and published mainstream, and via public appearances;

We hope to eventually set up a music therapy center for teens and at-risk youth.
---
Strength in Numbers

We are partners with several hospitals and organizations, and we have support in the form of donations and/or endorsements from a number of high profile guitar related companies. With our goal being to use guitars and music as the platform to not only draw attention to our mission, but to become therapeutic in nature as well, we look forward to establishing many additional relationships with organizations and companies both large and small.
---
Our Dedication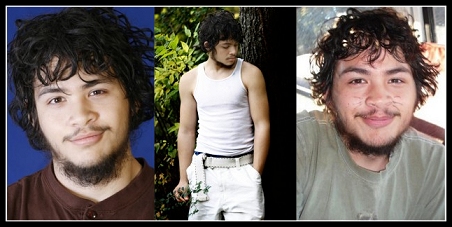 Alan is our Angel and he is the inspiration by which we dedicate this charity, Pick With Austin. Kids Helping Kids reflects Alan's lifelong desire to assist people who were in need. A giving soul and a fantastic guitar player and musician, Alan lost his battle with depression in October of 2010 by taking his own life. No greater loss to the world can been felt, than that of someone who was so giving and so pure and filled with goodness.
Alan touched the lives of the kids that he knew, helping many through their own struggles with depression, issues with drug abuse, or the lack of the basic things in life (he'd give you the coat off his back if you were cold and he often he did just that). Alan carried with him his Bible and his guitar no matter where he'd go and he would often write beautiful music praising life, God, and the hope of world peace, freedom and salvation. He was not a typical 18-year-old with his dreaded hair, simple clothes, and sandals.
Alan was also a model and an actor - he was in a Disney television series and he worked in print for companies such as Balfour and publishers such as Holt, Rinehart and Winston. Alan played harmonica, the keyboards/synth, bass, acoustic and electric guitars. He wrote songs of praise and sang them proudly - sometimes just belting out a tune. When he was singing, the words poured out of him like sweat from a runner. There was great feeling and passion that came out of every word he sang. A girl from one of his high school classes, in fact, recalled that once in the middle of class session, Alan just picked up his guitar and started playing and singing (much to the dismay of their instructor). When the feeling hit him, he would express. Music was Alan's escape from the pain he was experiencing within his own heart. In his last few months, his band was on the verge of almost instant success with a sound and passion that definitely mesmerized. Musical influences included Jim Morrison, Bob Dylan, John Lennon, and his "One Love" for the sounds of reggae and Bob Marley.
Those who knew Alan understood how different and special that he was, almost a saint by his thoughts and his actions. Those who "never got to know him" can never understand why his leaving us is such a great loss to the world. Over four hundred people attended Alan's services to cry one last goodbye to this dear heart.
Alan left behind his broken-hearted father and mother, two older brothers, and all of his beloved pets. He leaves behind a legacy of love and generosity, but also a memory of a child who could not find happiness in life regardless how much of a free spirit and helpful thinker that he was. The world was not ready for his kind heart. Alan's memory and the beauty of his soul shall forever inspire the Pick With Austin mission that is based around keeping alive his desire to bring happiness to a world that hurt him.

---

You may think that he's gone
but you're wrong
he's in our hearts and souls

Angels come and Angels go

Well I miss you my friend
but I'll see you again, one day soon
You remind me that even in deserts
flowers bloom.

Angels come and they go

(Lyrics from Alan's last song)

---

LEARN MORE ABOUT ALAN
ALAN'S AGENCY LISTING | ALAN'S LIVING MEMORIAL

PRESS THE PLAY ARROW TO BEGIN VIDEO