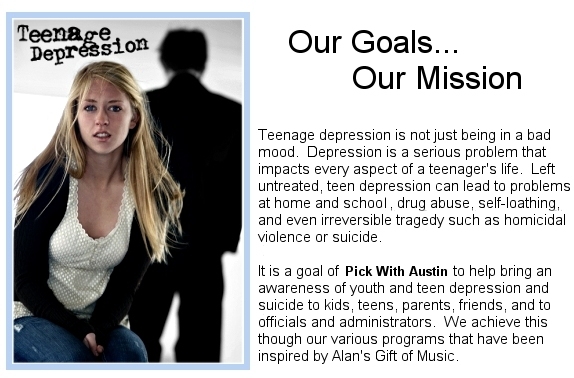 ---
LEARN ABOUT OUR CURRENT
COMMUNITY OUTREACH PROGRAMS
Pick With Austin implements hands-on participation within the community. While we definitely support research, as well as the collection of data and statistics as they relate to mental health, depression and suicide related topics, our primary purpose is to interact "in the trenches," so to speak, with young people who are at-risk of depression. We believe that depression, coupled with depressive situations, can lead to things such as mental health issues, self harm, lowered self esteem, and potentially suicidal thoughts.
While we acknowledge that there is no proven cure or all perfect solution to these things, there can be attention given to individuals who fit the potential at-risk profiles. Many of the outreach programs that Pick With Austin has founded, or is taking part in, address those situations directly.
While some of Pick With Austin's programs have matured, others are still in the implementation phase. All of our current programs that we either have developed, or are a participating part of, are as follows:
Juvenile Justice System

Provide guitars and musical instruments to individuals who are temporarily in the juvenile justice system (they can go home with the teens when they leave)

Provide guitars for the Justice Center (these guitars stay resident)

Meet with teens to discuss guitars and music and promote creative outlets as alternatives to depression

Discussions also include goal setting, self worth, making proper choices, and community respect

Provide general guitar orientation (guitar basics class)

Provide regular ongoing guitar lessons

Alan's Hope Project

Meets regularly with County Commissioner, Justices of the Peace, Law Enforcement, and Mental Health Professionals

Work toward goals of

strengthening

reliability of county suicide data and statistics

Seek community outreach programs and events to promote suicide prevention awareness

Plan yearly Suicide Prevention Week agenda and events

Teens4Teens

Developed an educational training program geared toward teens

Empower youth to identify warning signs of suicide and teach them how to respond when peers may be at risk

Train trainers that can provide education to teens to meet above goal(s)

Conduct training classes for teens through youth groups, schools, and various other community organizations

Community Outreach

Pick With Austin takes part in local non-profit networking sessions, and mental health task force meetings to maintain a prescence in the community

Pick With Austin representatives speak to youth groups, at events, colleges, ministries, and at other opportunities where a community voice can be heard

Pick With Austin distributes literature (both hard copy and digital online) designed to make people aware of resources available for suicide prevention and when seeking help in crisis or for related mental health or crisis services

Pick With Austin maintains a relationship with local and national music stores and manufacturers in order to spread awareness through their customer base

Pick With Austin funds and operates an online safe chat site where individuals can anonymously discuss their feelings and issues in a safe environment from their computer or via smart phone (chatsuicide.org)

AVAILABLE TO SPEAK AT EVENTS AND INTERVIEW FOR TELEVISION AND PRINT MEDIA

Individual Referrals

Youth are referred to our program by psychiatrists, case managers, counselors, local youth groups, hospitals, and psychiatric hospitals

Pick With Austin has donated guitars and other musical instruments to over 300 youth in the Central Texas area since 2010

Guitars and related services may be requested using our available request form
REQUEST SERVICES
Download this form to request
a guitar or other services.


---

The following data is presented strictly as an overview and as a set of general guidelines. If you or someone that you know is in crisis, please consult a medical professional immediately. Call 1-800-841-1255 to speak to someone at the 24-hour crisis hotline, or CLICK HERE for a list of alternative hotline numbers listed by city/county.

If you are not experiencing a crisis, but you have ongoing feelings relating to depression, PTSD, grief, anxiety, trauma, etc., you might want to explore our online peer-to-peer support group community at:

---

Pick With Austin is more than just an organization that collects donations of guitars and then presents to children and to teens. The guitars, musical equipment and instruments that we give away are definitely the most visible part of our foundation, but they are more the hook to draw the interest into the larger picture.

The larger picture is our primary mission, which is to help develop and educate an awareness of youth and teen depression and suicide. We do this to stengthen the understanding in this epedimic, which ranks as the third leading cause of death, behind accidents and homicide, of young people. Our aim is to educate parents, relatives, and peers as to warning signs, as well as to ways to manage or treat signs of depression in youth.

Our programs are designed to help keep the awareness of this problem in the spotlight so that no parent will ever have to face the nightmare with the loss of their own child.
---







---